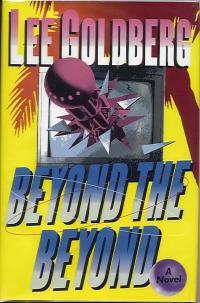 I was reading the Bookslut article on book cover design, and it reminded me of my experience with St. Martins Press on my novel, BEYOND THE BEYOND.
When my editor sent me the cover, I was horrified. I called him up immediately.
"There's a giant penis on the cover of my book!" I said.
"That's not a penis," he replied calmly. "That's a rocket ship."
"I've seen rocket ships, and I've seen penises," I said. "That is definitely a penis."
"Lee, You don't understand cover design, marketing, or publishing the way we do," he said. "Leave this to the professionals."
"It's a penis and it's against a bright yellow background," I said. "No bookstore in the country is going to display this book. You're killing the book before its even published."
"We've been publishing books for a very long time," He said. "I think we know a little bit more about how to sell books than you do."
So they went ahead with the cover. And when I went on my book tour, one bookseller after another told me the same thing — "We can't display this book, there's a penis on the cover! What were you thinking?"
The book got terrific reviews from the LA Times, Entertainment Weekly, Publishers Weekly and many others.. but the sales sucked and I never sold the book into paperback.
I blame the penis.
I learned two lessons from this. Publishers don't know any more about bookselling than I do… and people DO judge a book by its cover.