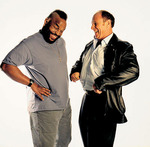 Just when I thought "mpreg fanfic" (a fictional TV or movie character impregnating another fictional male TV or movie character) couldn't be topped, along comes "Real People Slash"…fanfic in which two real people have fictional sex with one another like, say, Mr. T and Corbin Bernson. What kind of person writes this "Real People Slash?" Look no further than Robin Reid. Here's how she describes herself in her bio at JACK, an e-zine dedicated to homoerotic fiction by fanfic writers:
Robin Anne Reid was born in Idaho and left as soon as she could. She became a science fiction fan as soon as she learned to read, a J.R.R. Tolkien fan at age ten, a Star Trek fan at age thirteen, and a Harlan Ellison, Joanna Russ and New Wave SF fan at age fourteen. She is currently active in LotR LiveJournal fandom, writing both Real People Slash and Fictional People Slash. She has been addicted to writing sestinas for some years and always assigns them in her poetry classes. She teaches creative writing, contemporary women writers, and critical theory as well as Tolkien and Popular Culture classes. The internet provides her main social life since she currently lives and works in rural northeast Texas, living with twelve cats, three dogs, all more or less happily co-existing with cows, coyotes, skunks, and oppossums.
Somehow, I'm not surprised that a person who writes "Real People Slash" lives with twelve cats and considers the Internet "her main social life," are you? Now imagine what the people who read Real People Slash must be like. Horrifying, isn't it?
It's only a matter of time now before we get "Real People M-Preg Slash Fanfic." I, for one, can't wait to read about Justin Timberlake carrying Brad Pitt's love child.
UPDATE: The folks at "I Speak My Mind" blog discovered this hilarious piece posted anonymously at Fandom Jam… Check it out on the jump:
hmmm…should RPS fall under the same category as other fanfiction. The author should get permission from the copyright holder, in those cases, the poor fuck they're writing their stories about…

Dear (fill in name of famous actor):

I'd like to write fictional stories of you having sex with other actors from the movies you are in. Such stories will be written without regard to your actual sexual orientation or concern for your marital status.

Would that be all right with you? Please indicate permission by emailing me at YouShouldProbablyHaveARestrainingOrderOutAgainstMe at BizarroSexualFantasies.com

By the way. I plan to post these stories all over the internet, but I will be sure to put up a disclaimer that they are outright lies.

I hope that meets with your approval. I want you to know that I am a really great fan of yours and have complete respect for who you are and what you do. Telling lies about your life and your sexual proclivities is my way of expressing that respect.

Sincerely,
VeryMuchNeedsALife Smith