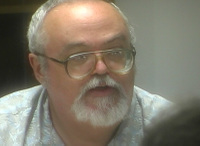 James Reasoner is back on-line after the terrible fire that destroyed his home:
"Awe-struck. Humbled. And very, very grateful. That pretty much
describes how I feel about the incredible outpouring of love, concern,
and support from all over the world following our fire last week. I
just can't tell you how much we appreciate each and every one of you.

[…]To those of you who have sent money, thank you so, so much. Even though
the place was insured, there are going to be a lot of extra expenses
that insurance won't cover. You never realize how much you have to
replace when you lose everything. To those who are sending books . . .
this is absolutely wonderful. To go from being surrounded by tens of
thousands of books to none in a matter of minutes is almost more than
the mind can comprehend. Any and all book donations will be hugely
appreciated. We can use copies of the books we wrote, research books,
fiction of all sorts."
I've already sent one box of books and more are on the way. Books can be sent to:
Kim Lionetti
BookEnds Inc.
136 Long Hill Road
Gillette, NJ 07933
Checks should be made out to the Western Writers of America with a notation in the memo portion that it's for the James Reasoner Emergency fund. Here's the address:

WWA
MSC06 3770
1 University of New Mexico
Albuquerque, NM 87131-0001
(The picture of James is from the Saddlebums Western Review)