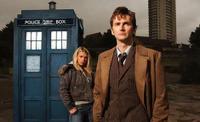 The Los Angeles Times reports today that DR. WHO executive producer Russell T. Davies is taking a new approach to fans. He's completely ignoring them.
"I think we're an unusual
science-fiction franchise in taking a very big step back from fandom
and having nothing to do with them. . . . Every program on the BBC has
a message board on the website. I forbid it to happen on 'Doctor Who.'
I'm sorry to say this, all the science fiction producers making stuff
in America, they are way too engaged with their fandom. They all need
to step back."
His policy of ignoring the fans doesn't seem to be hurting his show at all. In fact, it may be helping by making his show more accessible to mainstream audiences worldwide.
It falls to
Davies "to keep balancing how much continuity there is, how many
stand-alone elements there are." Ever mindful of the shows' "mainstream
audience" (meaning, not just sci-fi enthusiasts) and put off by
"exclusivity" in general, he said he is reticent of creating overly
inclusive stories dependent on viewers' in-depth knowledge of ornate
histories. This job is made easier by Davies' policy of ignoring the voices of those most vigilant.
Is there a lesson to be learned here for showrunners?