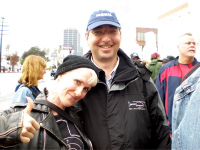 I ran into Scribe-award winning author Christa Faust on the picket line yesterday. Her book MONEY SHOT just came out this week and is already getting lots of positive buzz. I forgot to thank her again for talking up tie-ins, and her Scribe Award, in her
Dec. 3rd Publishers Weekly interview:
"The award itself is a wonderfully cheesy golden star that sits in a
place of honor beside my desk with other bits of writer's mojo like my
letter from Richard Prather and a small statue of the Blessed Virgin
dressed as a Dominatrix.

Some people look down their noses at media tie-in work and
think of tie-in writers as a bunch of soulless hacks just out to make a
buck. I love tie-in work and have infinitely more respect for
hard-working writers like Lee Goldberg and Max Allan Collins than I do
for self-styled literary geniuses who are still sitting in
mom's basement polishing their unpublished masterpiece. It was a hell
of an honor to be recognized by my fellow tie-in writers. They really
understand how tough the job can be."