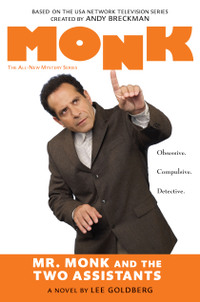 The paperback edition of MR. MONK AND THE TWO ASSISTANTS comes out in bookstores nationwide today. The book got some very good reviews, like this one from the Weekly Journal in Angleton, Texas:
"Even if you aren't familiar with the TV series "Monk", this book is too funny to not be read. Goldberg's comic genius
is channeled by Monk throughout and the truth of the crime is always
worth waiting for. Reading this book is like reading a script of the
weekly show, making this read a delightful treat for any fan."


But I think my favorite comments came from readers on Amazon, especially this one from reader in Australia (his name is Lee, but it's not me!):
To me Sharona and Natalie were interchangeable.
Then I read this book.
It goes as far as acknowledging that Natalie's character began as a
Sharona clone, yet explains how she's evolved into something more. In
fact, there are lots of jokes in Natalie's narrative that tap on – if
they don't actually break – the fourth wall, and it has the effect that
postmodernism should: By acknowledging its own artifice, addressing the
audience directly, it paradoxically becomes more a part of the real
world to deliver everything that's real about the personalities and
truths about human nature within the fiction. In doing so, this book
made me care for the first time about Natalie AND Sharona.
I hope you enjoy the book, too.