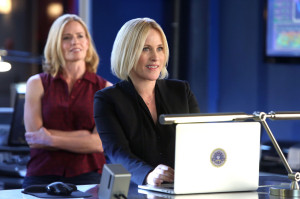 Last week, CBS picked up two series for next fall — CSI: Cyber and NCIS: New Orleans — that were shot as so-called "back-door pilots," embedded in episodes of existing series. CSI:Cyber aired as an episode of CSI and NCIS: New Orleans aired as an episode of NCIS (which, itself, began as a back-door pilot as an episode of JAG).
A back-door pilot is a way to save money on making a pilot, a sample episode of a proposed TV series. Since standalone pilots that don't lead to a seires cost millions of dollars, have no commerical value, and will usually never air anywhere, shooting them as an episode of an existing series allows studios to recoup their costs from the syndication revenue of a hit series. It's a practice that has been going on for fifty years — The Andy Griffith Show began as a back-door pilot episode of The Danny Thomas Show.
The problem is, backdoor pilots usually end up being one of the worst episodes of whatever series is hosting them. That's because the stars of the host series, by design, have to take a back seat to the stars of the pilot…and let's face it, people aren't tuning in to see the pilot characters, they are tuning in to see the characters they already know and love.  Star Trek ended it's second season with Assignment Earth, a back-door pilot starring Robert Lansing, and The Mary Tyler Moore Show ended it's second season with a back-door pilot for a series with Bill Daily. Both pilots failed to sell.
The networks and producers can't really disguise backdoor pilots — because they can't function as pilots without being pilots, introducing us to the characters and franchise of the proposed show. But it's a practice that has worked.
Some of hit shows that began as backdoor pilots (also known, some years back, as "nested spin-offs") include Diagnosis Murder, NCIS, CSI: Miami, Maude, SWAT, Petticoat Junction, Laverne  & Shirley, Barnaby Jones, Empty Nest, Knots Landing, and Stargate: Atlantis.
The many, many shows that have hosted one or more backdoor pilots include Magnum PI, Cosby, Spenser: For Hire, Star Trek, Vegas, Bones, Married With Children, Gunsmoke, The Practice, Charlie's Angels, Barnaby Jones, NCIS, Ironside, Criminal Minds, Murder She Wrote, Smallville, House and The Rockford Files (which had four of'em!). Back in the day, anthology shows like Zane Grey Theater, Dick Powell Theater, and Police Story (which begat Police Woman, Joe Forrester and David Cassidy: Man Undercover)  were often used for back-door pilots.

Bill Rabkin and I were the executive producers of Diagnosis Murder with Fred Silverman, the man who once ran CBS, ABC and NBC and was known as the "king of the spin-off." Since Diagnosis Murder was a nested spinoff of Jake and the Fatman, which itself was a nested spin-off of Matlock, Silverman was a big believer in backdoor pilots and  insisted that we do at least one every season. Diagnosis Murder tried at least six of them that I know of and they all went nowhere.
We personally did three of them, including Whistlers, basically a tame Lethal Weapon with women, and The Chief, starring Fred Dryer as the leader of the LAPD. Here's  the main title sequence for Whistlers:
and the sales pitch for The Chief:
We were very clever with how we structured The Chief as a back-door pilot…and it was the only one of the Diagnosis Murder backdoor pilots that actually had a shot getting picked up.
We wrote it as a tw0-hour, sweeps episode of the series…but crafted it in such a way that we could edit it down to one-hour and cut almost all of the Diagnosis Murder cast out of the show for internal sales purposes
Fred Dryer was great in the part…and newcomer Neal McDonough had real star power (since proven on Band of Brothers, Justified, Desperate Housewives, etc.). We were sure we were on to something. The two-hour movie was one of the highest rated shows of the week, #12 if memory serves, and when we had the one-hour version tested, the scores were among the best Fred Silverman had ever seen. Silverman was convinced we were a lock for the fall schedule.
Unfortunately, this was one of the rare cases where ratings and testing didn't mean as much to the network as personality…nobody at CBS wanted to work with Fred Dryer (which begs the question, why did CBS let us cast him, and why did they pay the  "pilot breakage" on his salary for the guest shot, if they had no intention of greenlighting a series with him in the lead?).
But Silverman wasn't concerned. With the numbers and testing we had, and with Dryer's successful track record with the hit series Hunter, he was convinced we'd have a sale in a matter of weeks with another network.  
We took it to every network and pitched it face-to-face to their presidents (that was the power of working with Silverman), and every one of them had some personal reason for not wanting to be in business with Dryer…and seemed to take great pleasure in passing on the project in the room to his implacable face.
As it turned out, a couple of years later CBS did a very simlar show (The District) with great success and a star reportedly as difficult as Dryer reportedly was (Craig T. Nelson)…and NBC ended up reviving Hunter for six episodes and discovered, or so we heard, that Dryer was even more reportedly difficult than he'd ever reportedly been before.
I guess we dodged a bullet.