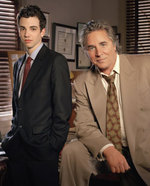 The triggermen at the networks have very itchy fingers. The WB killed Jerry Bruckheimer's JUST LEGAL, starring Don Johnson, after a mere three episodes and NBC aborted INCONCEIVABLE, starring Angie Harmon, after only two airings.
But there was some good news for a couple of freshman shows — SUPERNATURAL on the WB and MY NAME IS EARL on NBC got full season pick-ups. Variety predicts that full season pick-ups are in the offing for CBS's "How I
Met Your Mother," "Criminal Minds" and "Ghost Whisperer"; Fox's "Bones"; and
ABC's "Commander In Chief."
Midseason shows are already being lined up. NBC has greenlit 13 episodes of Dick Wolf's CONVICTION, a series about prosecutors that will scavenge left-over sets from LAW AND ORDER: TRIAL BY JURY. Variety reports there' s a possibility that new Wolf show may yet become part of the LAW AND ORDER franchise.