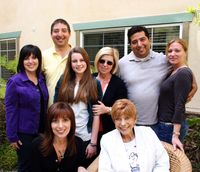 My brother Tod wrote a piece for the Wall Street Journal today about what it's like being part of a family of writers…and the dymanics that have shaped us into the authors were are today. He  says, in part:
the truth is that I didn't really grow up surrounded by writers as much as all the people I grew up with – my older brother, Lee Goldberg, and my two older sisters, Karen Dinino and Linda Woods, who often collaborate – all became authors. We are separated by nine years, oldest to youngest, yet we managed to end up in the same place, at least metaphorically speaking.

My brother was first. His debut novel, .357 Vigilante, a slim men's action adventure written under the absurd pen-name Ian Ludlow, was released in 1985 after he got a book deal through his writing teacher at UCLA. I would follow fifteen years later with my first novel and then my sisters, writing as a team, published their first book in 2006. Combined, we've published 50 books, hundreds of short stories, essays and features and, in my brother Lee's case, written or produced 26 different television shows.

[…]We had a difficult childhood, all of us: our mother was dying for most of our lives, the victim of both lupus and cancer, though she'd actually live for 73 years, but that specter hung over us, along with her propensity towards madness. And our father was simply gone, long before he was actually gone. We each escaped into words from an early age. That's the sad truth that lives under the happy result. The "how" is easily revealed: we enjoyed the escape so much that it became our physical world.
For more, check out the article. You'll know more about us afterwards than you'd ever want to.
 (Pictured: l-r Linda Woods, Lee Goldberg, Maddie Goldberg, Valerie Goldberg, Tod Goldberg, Wendy Goldberg, Karen Dinino, and Jan Curran)