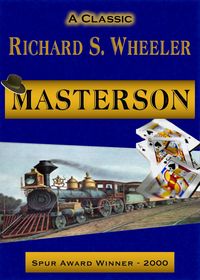 Legendary western author Richard Wheeler is bringing his classic, out-of-print books to the Kindle…with his acclaimed, Spur Award winning novel MASTERSON leading the charge. 
Here's what Publisher's Weekly had to say about the book, which is available on the Kindle now and earned the Western Writers Of America's highest honor:
Again depicting characters with frailties as well as heroic qualities, the prolific Wheeler's 25th novel (after Aftershocks) is a sprightly romp of revisionist western history. In 1919, legendary gunfighter Bat Masterson is a 64-year-old New York City sportswriter who suddenly becomes worried about the inglorious and mostly false reputation he has endured for decades… The journey is a hoot when the old lawman finds that the public wants the legend, not the truth… This is classic Wheeler, a solid story about real people told with wit, compassion and a bit of whimsy.
The return of MASTERSON on the Kindle is good news, not only for western lovers, but anybody who enjoys great story-telling.