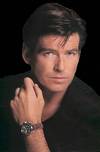 The web is abuzz as Sony zeros in on the actor who will portray 007 in CASINO ROYALE, which is being written by Paul Haggis for a "28-year-old Bond." Media reports, like the one at the UK's Teen Today, say it's down to Daniel Craig ("Layer Cake"), Julian McMahon ("Nip/Tuck"), and Henry Cavill ( "Hellraiser: Hellworld") while the folks at Commanderbond.net say the choice is between Craig…or Pierce Brosnan. Yes, Brosnan, who was let go by Eon (the Bond producers) and was harshly critical of the franchise in subsequent news reports, is reportedly back in the running.
A CBn source says Daniel
Craig remains Eon's "preferred" choice for the role, and could still turn
out to be the man in gunbarrel. However, the edgy "Layer
Cake" actor may be considered too much of a commercial risk for Sony
Pictures. Eon's attempts to find a convincing twenty-something actor appear to
have failed, and with only 12 weeks to go before that start of principle
photography, Eon and Campbell may have to abandon their ambitions to reinvent
the franchise via Ian Fleming's first novel and quickly rework it into Pierce
Brosnan's final James Bond film.