It's Monday night here in Berlin…which means we are just one day away from commencement of principal photography on FAST TRACK: NO LIMITS.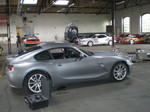 The last week has been filled with (among a thousand other things) rehearsals, stunt preparation, wardrobe & make-up tests, and the transformation of a fleet of cars into str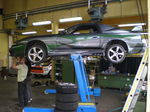 eet racers. The days have been long and exhausting…but lots of fun, too. The highlight for me has been the opportunity to spend four days in rehearsal with our incredibly talented and creative cast…led by Erin Cahill, Andrew Walker, Alexia Barlier, and Joseph Beattie. I can't wait to get them in front of the camera.
But none of this would have been possible without our line producer Heiko Schmidt, who I've seen perform at least one production or budget-crunching miracle every day that we've worked together. It's really not possible to do a job like this without a partner like Heiko watching your back and doing whatever it takes (within the budget!) to make sure that your vision makes it to the screen.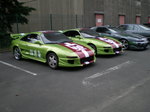 I'm also fortunate to be working with Axel Sand, a director and D.P. who immediately understood how I saw FAST TRACK and, even before we've started shooting, has already done so much to bring that world to life. I'm anxious to see him at work on the set.
Tonight I got home earlier than usual (around 8 pm). I grabbed a table outside a restaurant in Berlin Mitte and had a chance to take stock and reflect on the last few months. If you'd told me a year ago that I would be here in Berlin today, writing and producing an action movie, I wouldn't have believed it. But here I am. In a few weeks, my family will be joining me and, after the movie wraps at the end of June, we'll be spending the rest of the summer in Europe together.
I am, without a doubt, the luckiest guy I know. The only thing that could make this better was if my family was already here with me.
(The photos are a few of our over two dozen cars in various stages of transformation. Click on the photos for larger images).