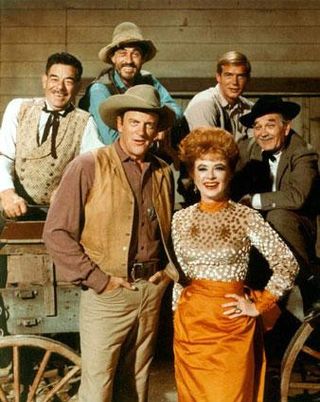 I look at all the hoopla surrounding the final episode of ER, ending a run of 15 years and 331 episodes, and I can't help thinking of GUNSMOKE. 
The legendary CBS western ran for 20 years and 600+ episodes…far more than ER. And unlike ER, most of the principal stars of GUNSMOKE remained to the bitter end… bitter, not because the show was doing poorly creatively or in terms of audience numbers, but because it was cancelled without a final episode, without so much as a thank you to the cast and crew that had labored over the show from 1955-1975.  Everyone on GUNSMOKE thought they'd be coming back for another season. They found out they weren't by reading the bad news in the trades. That would be unthinkable today. Respect would be paid, if not with a final episode, then certainly with the tributes and retrospectives we've seen lavished on shows like BOSTON LEGAL, HILL STREET BLUES, CHEERS, MASH, SEINFELD, BATTLESTAR GALACTICA and so many, many others…none of which has matched GUNSMOKE's longevity. 
GUNSMOKE still remains the longest running, scripted drama in U.S. television history. LAW & ORDER is fast approaching the record, but unlike GUNSMOKE, it has experienced a lot of cast-turnover. There's nobody left on L&O who was there in episode one.  The same is true of ER. The ER we were captivated by 15 years ago is not the same show that will be ending this Thursday…that cast, and that show, is long gone. But James Arness as Marshal Matt Dillon and Milburn Stone, as Doc, were there from start to finish (Amanda Blake as Kitty stuck with the show for 19 years). They deserved a better send off.