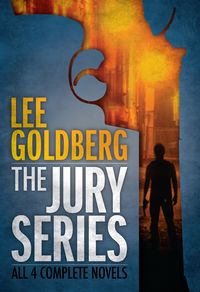 Bruce Grossman at Bookgasm has given THE JURY SERIES a rave review. Here's an excerpt:
This four-book collection, THE JURY SERIES, is straight-up men's adventure material. Don't expect complex plots; these were all about body counts and vengeance, and there is plenty of both to go around.  Originally credited to Ian Ludlow, they were actually Goldberg in disguise — a mild-mannered college student testing out his writing muscle.[…] Goldberg holds nothing back in this one, that's for sure. Bodies pile up real quickly, proving Macklin is not one to screw with. This collection recharged my love for the genre.
Thanks so much, Bruce!