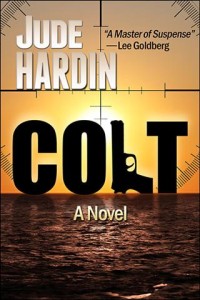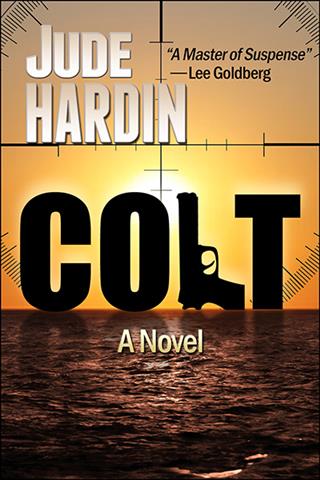 My friend Jude Hardin's highly acclaimed Nicholas Colt mystery novels have followed an unusual publishing path. In this informative guest post, Jude talks candidly about that journey and the hard lessons he's learned, culminating with the self-publication this month of his latest novel in the series, COLT (and be sure to check out his fantastic DEAD MAN tale, FIRE & ICE). 
In the spring of 2011, when my debut thriller POCKET-47 received a starred review in Publisher's Weekly, I figured I was on my way. Suddenly, I was getting inquiries from a variety of big-name industry professionals who were interested in my book and my future.
I was a published author, and I was getting noticed. After years of trying to break into the business, these were two of the best things a writer could ask for!
But, with a hardcover print run of 3000 copies, and a $9.99 price tag on the ebook version, it quickly became apparent that the book wasn't going to take off as well as it should have. The distribution just wasn't adequate; there was no co-op placement in bookstores, and there weren't a lot of readers willing to shell out ten bucks for an ebook by an unknown author.
That PW review did help me land a top New York agent, though, so I had high hopes for the second book in the Nicholas Colt series. My agent and I discussed strategies to move forward, and we decided Amazon's Thomas and Mercer imprint might be the best way to go. Ebooks were quickly gaining traction in the marketplace, and Amazon's promotion of them was second to none.
So we submitted the manuscript.
It sparked the editors' interest, and I ended up signing a four-book deal with an option on a fifth. CROSSCUT was scheduled to be released June 2012, and SNUFF TAG 9 the following November. With Amazon's backing, I thought these and subsequent titles would sell well enough to allow me to write full time. Once again, I was on my way.
Once again, good things!
Unfortunately, even with solid promotional efforts from Amazon, the sales of my Nicholas Colt titles have been lackluster so far. The books have earned out their advances, but they haven't sold well enough for T&M or other publishers to offer the kinds of publishing deals I'm interested in. KEY DEATH comes out later this month, and I'm hoping things will pick up when it does.
But of course I've learned that there are no guarantees…
So, in an effort to give the series an extra shot in the arm (and with all of my contract obligations to Thomas and Mercer fulfilled) I have decided, for the first time, to self-publish a novel.
COLT went on sale May 30. It's a prequel to the series, the events taking place three years before those in POCKET-47. Here's the story:
October 21: just an ordinary day, unless you're a former rock star…

The sole survivor of a plane crash…

A private investigator working out of a camper..

For Nicholas Colt, October 21 is an unlucky day. A day for nightmares. It always has been, and this year is no exception.

Someone is brutally murdering the offspring of an anonymous sperm donor, and Colt's missing client is next on the list. With less than four days to find the young man—and, with a pair of drug-addicted study partners, a violent motorcycle gang, a stalker ex-girlfriend, and a host of other obstacles standing in his way—Colt faces the most challenging and deadly case of his life.
By self-publishing, I have control of the price, and I can participate in free giveaways and other promotional tools like BookBub. I have another completed novel that falls on the other side of the Nicholas Colt timeline, and I'm planning to self-publish that one early 2014.
Does this mean that I'm finished with publishers altogether? Not at all. It just means that writers have more viable choices now than ever before.
And that, my friends, is a very good thing indeed.