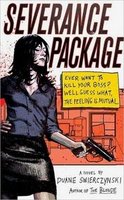 Duane Swierczynski's SEVERANCE PACKAGE reads
like a novelization of a screenplay based on a video game. A group of people are called into the office on a Saturday…and then told by their boss that the company they work for is shutting down, that they are locked in the building (which is boobytrapped with sarin gas, bombs, etc), and that they are all going to be executed…unless they choose to drink a poison cocktail instead.
It's a high
concept idea that ultimately has no substance beyond that. It never
really pays off in terms of character or plot…instead, what we get is
one violent fight sequence after another which would play
much better on screen than it does on the page. On paper, it's monotonous rather than thrilling.
All the fights tend to blend into one another after a while, even though
Duane keeps dialing up the gore in an effort to keep our attention. Overall, the book reads like a
martial arts/espionage twist on the familiar FRIDAY THE 13th/HALLOWEEN
slasher movie formula…with a bunch of victims up against an
unstoppable, almost superhuman, killer.
It's obvious that that Duane
is a wonderfully imaginative, highly skilled writer…but, in my
opinion, he's skating on flash here…he's taking the easy way and not
using his considerable talent to its full potential. He could be
writing great books…noir classics…but instead he's going for
gimmicks, in-jokes, and fights. It's as if in every scene he's trying
to impress his friends ("hey, look at this guys,
it's gonna be cool!") instead of trying to create interesting, believable characters and tell a
compelling story. It's a shame that he's devoting his efforts to superficial splatter-fests when he's clearly capable of writing
something with real substance and staying power.
SEVERANCE PACKAGE would have worked much
better as a comicbook…which it, essentially, is (the cover and the
artwork that's interspersed throughout the book make that comparison
inevitable) or a screenplay, which it probably will become (if it hasn't already). And yet, as hip and edgy as the book wants to be, there's
actually a really dated feel to it all…like you're reading the novelization of the fifth
sequel to BALLISTIC: ECKS VS. SEVER. Haven't we seen the super sexy, invincible, gun-toting martial arts babe a thousand times now?
As I said when he wrote the far superior THE WHEELMAN…he's got a great book in him, but this isn't it. SEVERANCE PACKAGE reflects all the weaknesses of THE WHEELMAN and few
of its many strengths.