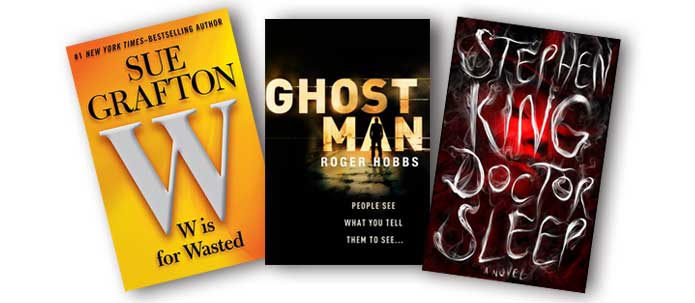 Here's a guest post from my friend Kate Goldstone, a big fan in the UK of crime shows, crime novels and everything noir, talking about the amazing year 2013 was for mystery thriller books.  Do you agree with her? I'd be interested to know your recommendations, so leave a comment…
What a year 2013 was for US mystery thriller books. It was an epic twelve months in which some of the best and least well-known thriller authors scored massive commercial hits. Stephen King delivered a sequel to The Shining, to the delight of millions of fans who never quite forgot the skin-crawling terror of redrum and always wondered what happened to little Danny. Lee Child, Sue Grafton and Michael Connelly released the latest in their iconic series' too, making 2013 a year to remember in the best thriller books stakes.
All of which made me a very happy bunny, as we say in Brit-land. Hand me a new crime mystery or thriller, switch the sunshine on, let me loose in the yard and I'm sorted.
Here are three of the best from last year. If you're on a mission to identify the best of the genre in time for the Easter break, you could do a lot worse than grab these three and run with 'em.