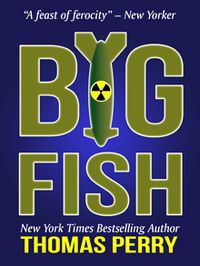 If you're a regular reader of this blog, then you know I'm a huge Thomas Perry fan. We did a panel together at the Los Angeles Times Festival of Books and I used the opportunity to urged him to bring back his two hilarious, out-0f-print classics, BIG FISH and ISLAND, as ebooks. I'm thrilled to say that he cracked under my relentless nagging…both books are now available!  Here's the story on BIG FISH:
First published in 1985 and long out-of-print, Big Fish, one of Thomas Perry's most sought-after titles, is now available to readers in an e-book format. Powerfully-plotted and funny, Big Fish follows dangerous and mysterious Los Angeles entrepreneur Altmeyer, and his wife Rachel whose quiet lives in the Hollywood hills are disrupted when a multi-million dollar gunrunning deal goes bad. 

Under most circumstances, Altmeyer might be mildly amused by the audacity of the double-cross. But whoever cheated Altmeyer may also be planning to destroy the world. With so much at stake, Altmeyer and Rachel and their friend, super-agent to the stars Bucky Carmichael, set off on a perilous adventure in search of the identity of the Big Fish. What they find is shocking and horrifying and all too credible.
And here's the story on his classic ISLAND: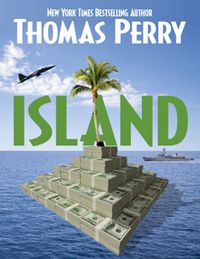 Island, first published in 1987 and long out-of-print, one of Thomas Perry's most sought-after titles, is now available to readers in e-book format. The riveting and entertaining thriller follows a husband-and-wife con team on the run from the Mob, a soldier of fortune between jobs, a two-bit operator with grandiose dreams of tribal dynasty, a sultry CIA operative with divided loyalties, and the most dazzling defector ever to hurl a split-fingered fastball––twentieth-century buccaneers who wash up on a tiny island in the Caribbean and turn it into a multinational cash machine—but then the shooting starts.

Somebody is trying to invade the island, and that somebody could be anybody: the CIA, NSC or IRS; the most powerful, corrupt bank in the U.S. or the South American cocaine mafia—or it could just be the Los Angeles incarnation of the devil himself, a shadowy figure with a checkered past named Fat Jimmy… 
If you are Thomas Perry fan, these classics are a must-buy…revealing a lighter side only hinted at in his string of thrillers. And if you've never read Perry before, these are a great place to start.